The Art of Living in a Small House
As a child, my favorite pastime was drawing up floor plans for my future 'dream home'. Needless to say, I've been giving this a lot of thought for a very long time, so when my boyfriend, now husband, Tyler, and I began looking for our first house, I wasn't sure we would ever find something that suited both of our tastes. However, we fell in love with a fixer-upper in a hip downtown neighborhood on the North Shore of Chattanooga. The charming 1920's home had plaster and lath walls along with all the original heart pine floors, dark stained mahogany trim, a brick wood-burning fireplace and a breathtaking view of the city. It was missing the kitchen & bathroom and there were over 50 steps to the front door, but we were determined to make it work. During those years, we had more time than money, so any spare moment was spent renovating the house. We roughed it for a long time, but we were young and dumb, and after all, we truly loved this house. We continued juggling work, becoming new parents, and working on our labor of love for 8 years. In the meantime, Tyler followed in his dad's footsteps by buying a small duplex, with the intention of using it as rental income, once it was paid off. We didn't know it at the time, but this was the beginning of our small house living journey.
When I found out I was pregnant for a second time, reality started to set in, financially. Two kids in daycare, plus our mortgage and expenses wasn't feasible on our income. We needed to get creative, but weren't sure how. We thought about moving to a cheaper daycare, but that wasn't enough. Ultimately, we chose to list our home on the VRBO website (this was before AirBnB was a thing) & thought, "Let's just see if anyone wants to rent it and if so, then we'll figure out next steps." I listed it on a Tuesday, and the following day we received an inquiry from someone wanting to stay at our house for 6 weeks. There was no way we were turning down $5,000, which was the cost for that length of stay. The kicker though, they wanted to rent the house starting the following week. So we spent the next several days in a blur… evicting the non-rent-paying tenant from one side of the duplex, packing up all our personal items, finishing up last minute projects, deep cleaning both the house and the apartment, and moving out of our 1,500 SF dream home into a tiny, 750 square foot, apartment with two cats, a 2 year old, and a baby on the way. 
I'm not sure if it was the stress or the pregnancy, but this is when it hit me, "Just because I was DOWNSIZING, didn't mean I was DOWNGRADING." I had zero intention of sacrificing beauty, quality, or functionality in our new living arrangement. So we used the remaining time before our 2nd son was born to furnish our new apartment. I bought the cutest modern furniture I could afford from Ikea and outfitted every room with hooks, shelves, and storage baskets to keep everything organized. We financed a large sectional sleeper sofa and bought a new set of stainless steel front loaders to match the other appliances, since the laundry was now in the kitchen. This small apartment became our oasis and best of all, it was free. Our fixer-upper-turned-short-term vacation rental was successful enough to cover both mortgages and our living expenses. We kept our day jobs and the kids didn't change daycares.
That was 8 years ago. Since then we've bought and renovated a second duplex, where we lived in one side for 2 years. From there, we bought and renovated a small 1,000 SF home and lived in it for 4 years. The images featured on this blog are a larger 2,200 SF house that we renovated & planned to live in for 2 years, but ended up selling, so we could purchase our dream property- 12 acres of land with a large spring-fed pond. This dream property has two houses on it, a big house at 3,500 SF, plus a 1,000 SF cottage. We briefly lived in the big house for 6 months, while we renovated the cottage. Now we're living in the cottage, while the big house is being renovated. Once the renovation is complete, the big house will become a short-term vacation rental. The end goal for all of this is to retire and pay everything off. Untether ourselves from work and school, and experience true freedom, both physically and financially. 
Now if your dream is to have a big house, I truly have no problem with that, if it weren't for large homes, I would be out of a job. However, I've had my fair share of clients that upon completing the plans for their dream home, discover it's too expensive and out of reach. When that happens, the easiest way to cut costs is cutting down on the overall square footage, and for some, it's the hardest thing in the world. That's why I want to elaborate on some of the benefits to small house living, so even before you start planning for your new home, you can begin prioritizing what's most important and how you can best translate that into the overall size and shape of your dream home. So below are some of the perks I've experienced.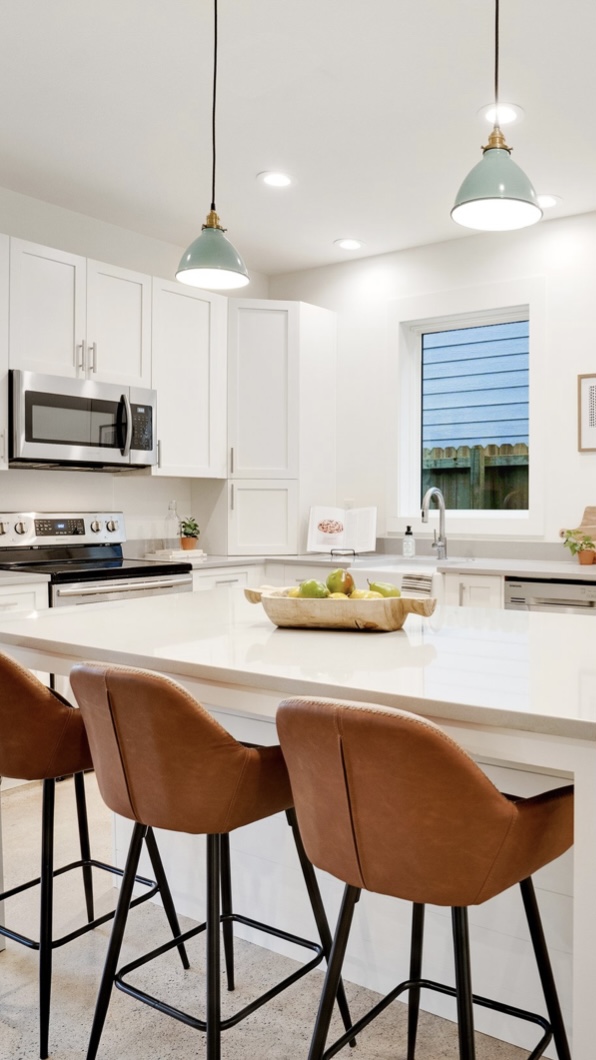 1- It's less square footage, so it's cheaper to build. Needless to say, construction costs are crazy right now. Not to mention timelines are unpredictable due to labor shortages and supply chain issues. If you can incorporate flexibility into how a space functions, you can reduce your home's footprint. For example, a multi-purpose space next to your living area with double doors to either open it up to the main room or close-it off altogether, can be used as an office, a play room, or a guest room depending on the circumstances. Another example is to design a home with a steep roof, where the attic is big enough to build out as an upstairs down the road. It saves you money now while allowing you to plan for the future without increasing the footprint.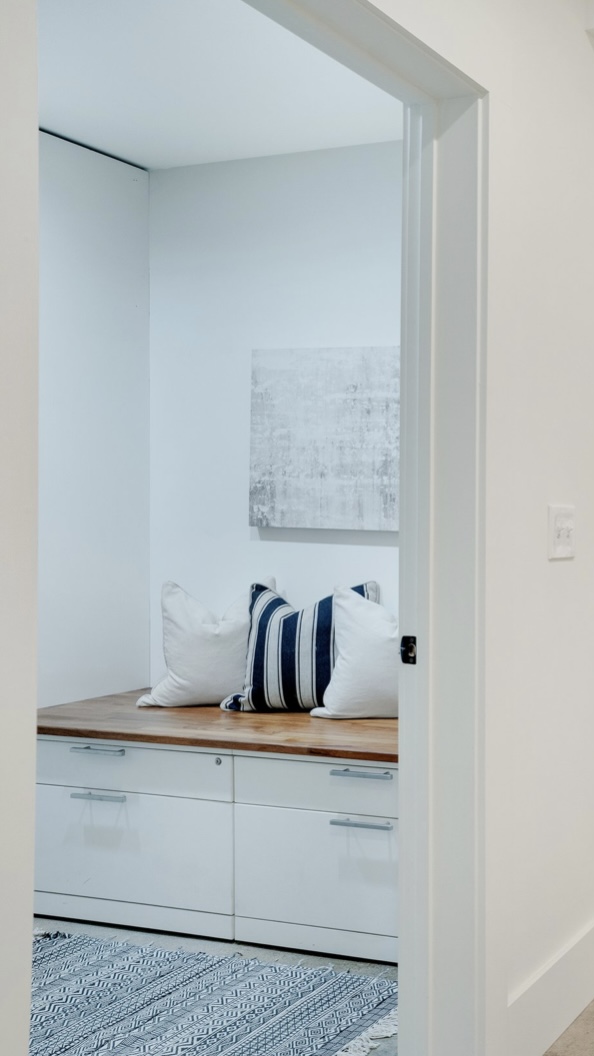 2-  It's easier to clean and takes less time to tidy up. Aside from the fact that it also gets dirty quicker, it really does take a fraction of the time to get everything clean and tidy again. So instead of compromising on upgrades for more square footage, free up money in the budget for customizations. This could include a built-in bench with hooks and shelves in the mud room. Drawers, instead of doors, in the kitchen, allowing you to store way more stuff, plus it's easier to access. If you have kids, it's an extra bonus because they can reach everything and can help with tidying up, i.e. unloading the dishwasher. The same goes for the laundry area and your closets, instead of the usual wire shelves, incorporate more functional hooks, drawers, and shelves to keep things clean and organized.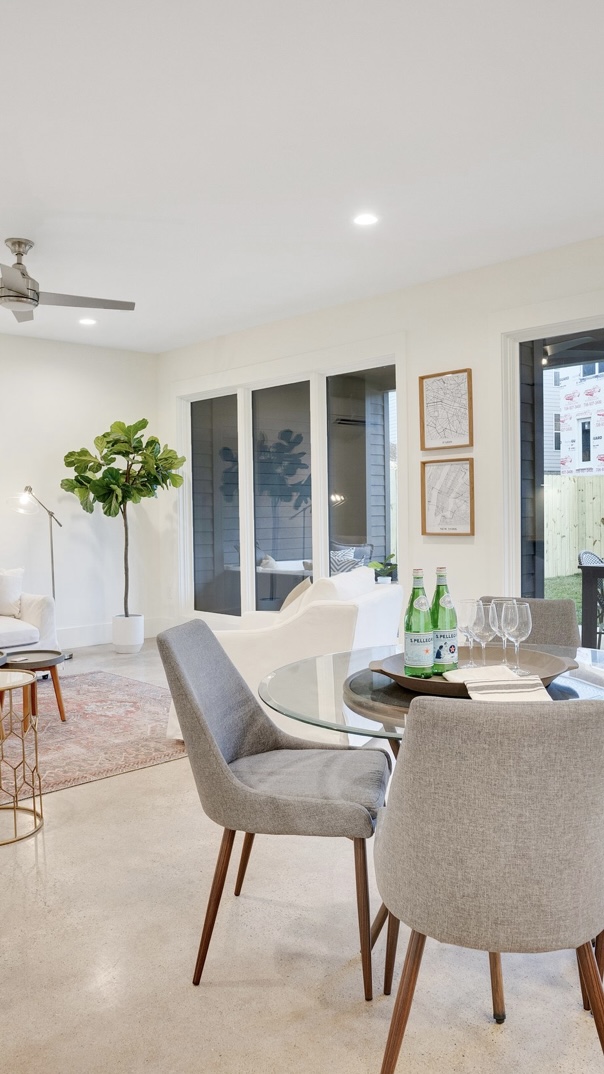 3- It costs less to heat & cool, plus adding 'green features' is more cost effective. Saving money on operating costs isn't something that really gets factored into a new build. The cost to keep your home comfortable is an ongoing expense that stays with you for the life of your home. The most important aspect of any new build is it's tightness, which reduces outside air infiltration. This is best accomplished with insulation, typically a combination of spray foam and batt-insulation, and the more you have, the better. With two small children, I was really focused on reducing toxic chemicals in my home. With a smaller space we were able to afford paints and stains with zero VOCs. We installed a water filtration system for the whole house, which was also really important to me. And we used low-flow plumbing fixtures, like a dual flush toilet, to cut down on our water usage. In the future, I'd love to incorporate solar panels to further reduce our monthly expenses.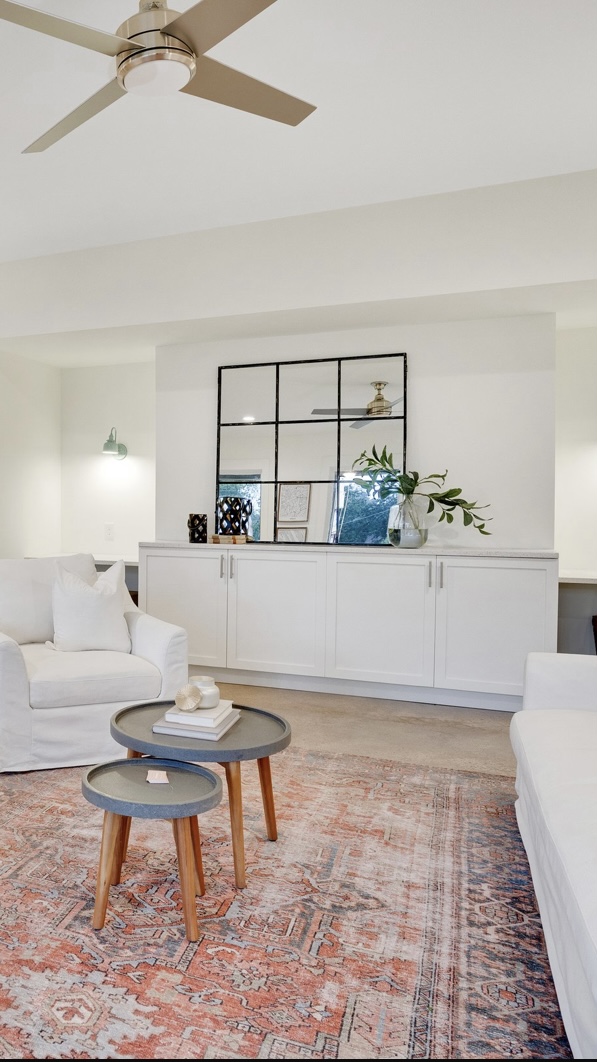 4- It's cheaper to furnish and easier to embrace a life with less stuff. We've moved a few times since that first apartment, always to another small property, but it always baffles me at how much stuff we manage to accumulate in such a small space. Just like the monthly expenses of your home, you also need furniture and accessories to make your home comfortable and cozy. And these costs can really add up, especially with inflation. So just remember the more spaces you have, the more you need to purchase, clean, and maintain.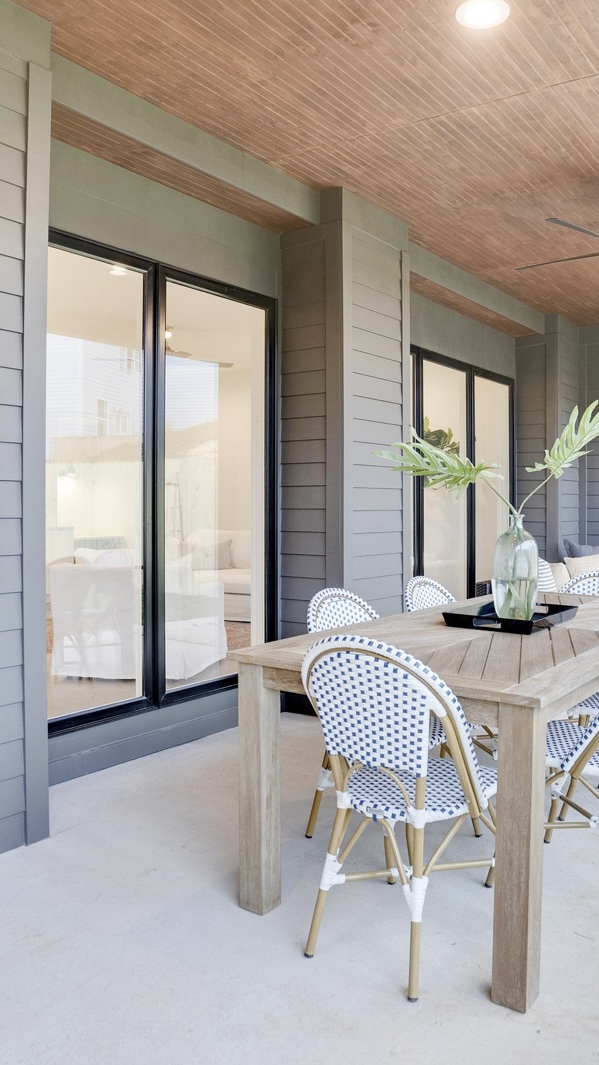 5- There's no shortage of quality time. I'm really grateful we were in such a small space when my kids were young. They were always nearby, even if I needed to get ready in the bathroom or prepare dinner in the kitchen. Because the space was so small, we got very good at communicating with one another too. I think the biggest concern people have about small spaces is with entertaining guests. Since we had the larger home as a short term rental, it was always an option for out-of-town guests, but our sleeper sofa always worked just as well. If you're saving money on a smaller house, use the extra money to create a magical outdoor entertainment space such as screened-in porches, an outdoor kitchen, a fire pit, or even a pool or hot tub, if the budget allows. 
Ultimately, the size of your home is shaped by the priorities you have for yourself and your family. Before jumping in and assuming you need a certain square footage because that's what you've always known or it's the standard in the neighborhood, plan ahead. Make a list of the connections you want to create in your home… between spaces, between people, and between tasks. Let this list guide you in the planning process, so you're prepared to design a home you love and you can afford.
Design by Jenn Smith Architect | Photos by Tyler Johnson (Ty in the Sky) | Staging by Featherlane Design Co.
MAKE YOUR DREAM HOME VISION A REALITY!
Download your e-book now to create a timeline, budget, and game plan for your dream home, and clearly articulate next steps, plus identifying team members to assist you along the way.